Our Attractions
Things to make your visit smoother:
Don't forget the socks! They are required in all attractions.

Water Bottles with lids are allowed but no other food or drink.

Waivers are required for all adults and children in the facility.

Buying Tickets online (below) is encouraged and recommended.
Ninja Gym
Equipped with various skilled obstacles the Ninja Gym is great attraction to hang, swing and traverse. Recommended for kids ages 6 and up. Socks are required for all attractions!
Themed Climbing Wall
Themed climbing makes climbing fun for beginner and youth climbers. With harnesses suited for youth and adults, we can accommodate most kids over the age of three. Don't forget the socks and closed toe shoes!
Laser Tag
Positioned in the 3rd floor theater, Laser Tag boasts artwork by Chad Beeman which is further enhanced by black lights and fog machine. Closed toe shoes are recommended!
Adventure Park
The Adventure Park includes both the jungle gym and the tot area with admission. Parents are free with a child's admission. Don't forget the socks!
ADVENTURE PARK IS OPEN AT 9AM Mon - Fri!
Warped wall
The Ninja Gym has several differing heights of warped wall which include 8, 10,12 and 14 ft high.
Climbing Wall
Our climbing wall offers routes in differing difficulty (5.5 - 5.11): Orange (easiest), Green (moderate) and Blue (difficult)
Laser Tag
Sentry Pods, home bases, computer scoring and sound effects, take the laser tag game to a whole new level.
Adventure Park
The Tot Area is reserved for kids under age 5 to crawl, climb and have fun.
Ninja Gym Balcony
A Balcony overlooking the multipurpose room and the ninja gym gives a birds eye view to the action.
Auto Belays
Many of our routes are outfitted with auto-belays so that you can climb at your own pace and at your own level.
Laser Tag
The laser tag room has 16 vests and several different gaming options to ensure an incredible time for kids and adults.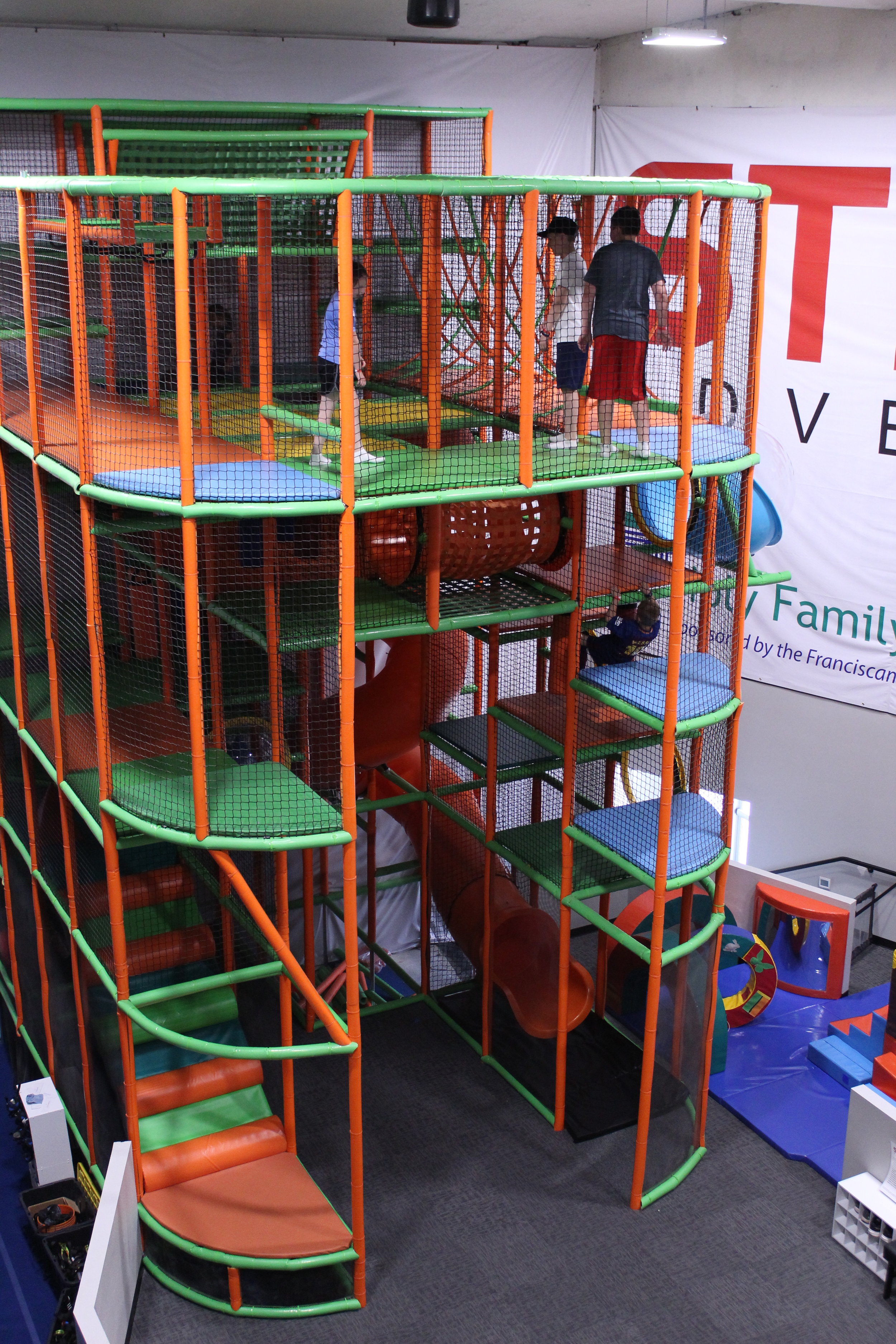 Adventure Park
The Jungle gym stands nearly 30 feet tall with several tiers filled with different fun activities.
Arcade
The Arcade takes up residence in the 2nd floor of Strand Adventures. The machines accepts quarters and is free to access with paid admission. This is also a fun activity to add to birthday parties after they are finished in the party room!
CrossFit Manitowoc
Founded in March 2012, CrossFit Manitowoc provides premiere training for all fitness levels. Balancing a group environment with personal training, our coaches are passionate about teaching people how move with intention in a safe and encouraging environment.
Multipurpose Room
Our multipurpose room is usually set up for baseball or softball but it has the ability to be used for Team Building events or larger room rental by pushing the nets back to the wall.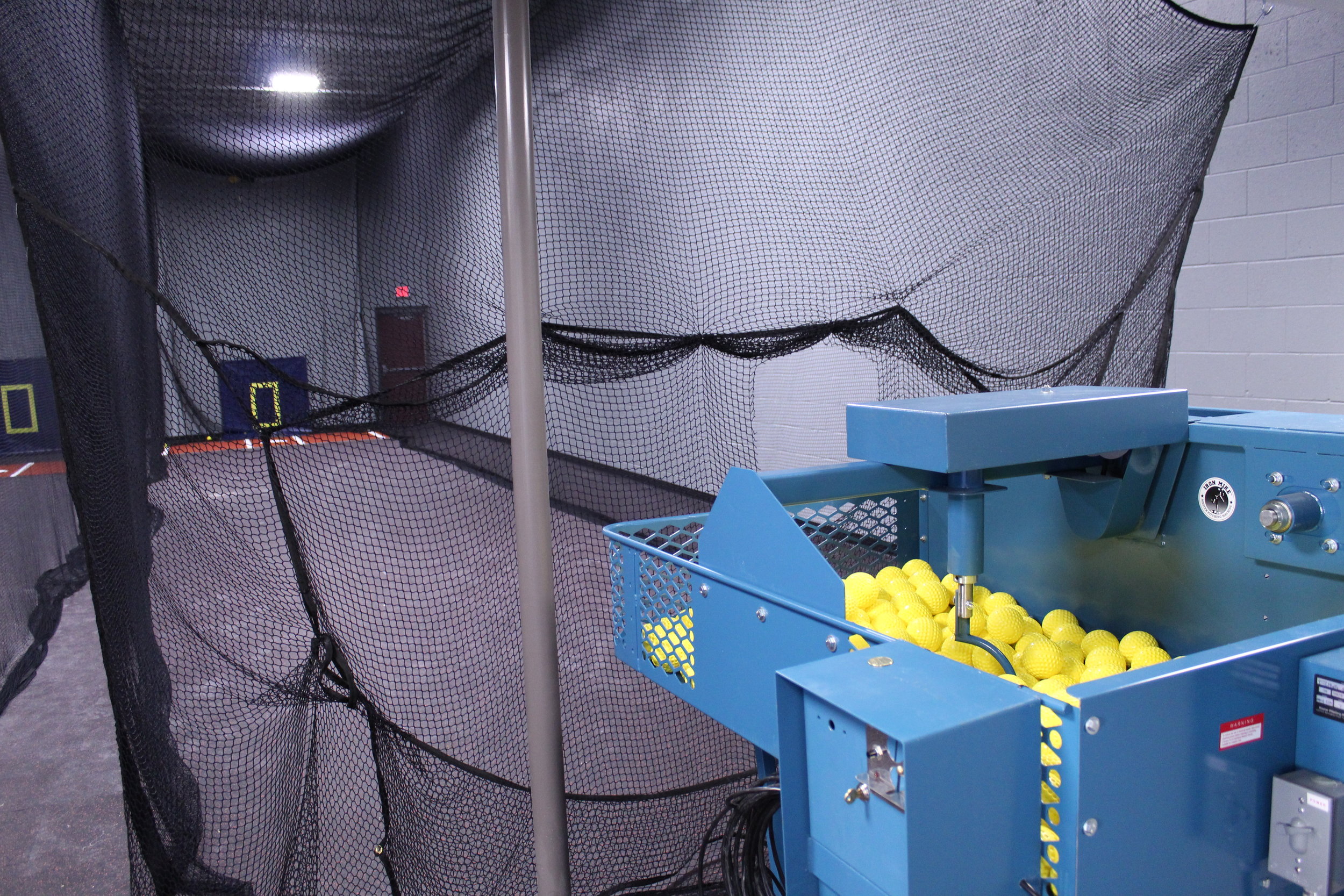 Pitching Machines
Our batting cages are outfitted with pitching machines that can pitch both baseballs and softballs.